Pitch (distance between pixels in mm)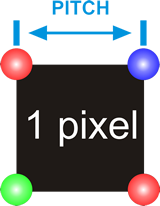 The pitch (or step or space) to a display led expresses, in millimeters, the distance between a pixel and others. Minore is the distance between the two pixels, the higher the resolution (as a lesser distance between the LEDs implies a greater presence of these). The choice of pitch is important because depending on its extent varies other factors, such as the minimum distance of vision of the giant screen and its resolution, which is the total density of LEDs on the giant screen.
RESOLUTION MAXISCREEN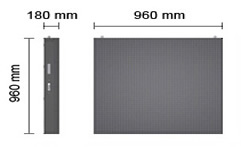 As mentioned, the resolution is the choice of pitch. The number of pixels on each sqm identify the resolution. Let's make a concrete example: a giant screen with a pitch of 10mm has a resolution of 10,000 pixels per square meter.
As the giant screens are composed of modules, these modules with different measures. The measures used by our company are: 896 * 896mm, 960 * 960mm, 1024 * 1024mm. So taking a module size 960 * 960mm with a distance between pixels (pitch) of 20mm, you will have 2304 pixels per module.
Choosing a pitch of 10mm, always with the same measures of the form, you will have 9216 pixels. Note that a few millimeters of decreasing the distance between pixels, the total number of LEDs increased by four times.
| | |
| --- | --- |
| Pitch | Resolution real pixel/mq |
| 10 mm | 10000 |
| 12 mm | 6944 |
| 14 mm | 5102 |
| 16 mm | 3906 |
| 18 mm | 3086 |
| 20 mm | 2500 |
| 22 mm | 2066 |
| 25 mm | 1600 |
| 30 mm | 1111 |
| 31.25 mm | 1024 |