DIFFERENCE BETWEEN LED SMD LED AND TRADITIONAL (PTH)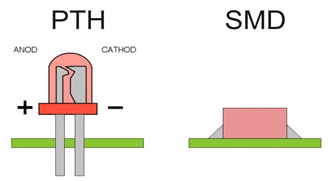 The type of LED more commonly used in giant screens is the LED PTH, "PLATING THROUGH HOLES", or welding through the holes. LEDs are welded on the outside of the electronic board, to come into contact with the card using the two feet (anode and cathode).

With the new SMD LED technology, Surface Mounting Device, or "Surface Mounted Device", the LED is always mounted on the surface of the card, but does not need feet to the link.
Another characteristic is their small size, thanks to what you can get 3 different color LEDs within a single LED. " This allows you to display three colors simultaneously with a single LED, this technology allows a smaller distance between the led. Unlike conventional LEDs, SMD LEDs do not have the virtual pixel technology.