REFRESH RATE LED GIANT SCREEN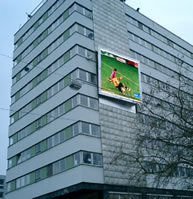 The refresh rate, translated refresh rate, the number of times the image is updated every second. The refresh rate is crucial for a correct view on the screen. If the frequency is too low, the eye perceives a flicker that can cause headaches and eye damage.
Some examples, an LCD computer monitor has a refresh rate of 72Hz (the image is refreshed 72 times per second). A television has a frequency range from 50Hz and 100Hz.
Our Maxicar have led to a higher refresh rate to 300Hz, this to ensure the highest quality of our products.