DIFFERENCE BETWEEN LED GIANT SCREEN INDOOR AND OUTDOOR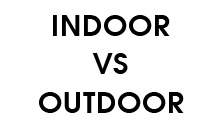 The difference between a giant screen for an internal and external is due to the resolution, the brightness and degree of protection cabinets.
In fact, the giant screens outside to have a lower resolution because they are usually seen from longer distances, thus requiring a lower resolution than the giant screens interior.
Regarding the degree of protection for the giant screens inside have a lesser degree of protection against the elements.
The giant screens outside to have a greater brightness to be visible and legible even from long distances and especially to be able to counteract the power of sunlight.