LED GIANT SCREEN ON TRUCK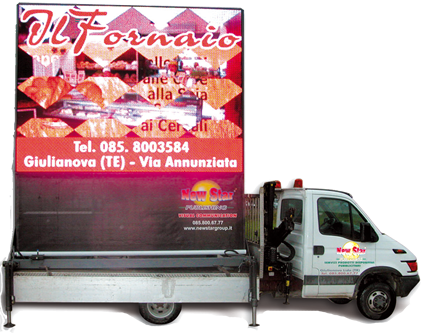 Our product, called "A giant screen LED MOBILE" is a complex structure, composed of a giant screen LED approximately 12 square meters housed in a metal structure, installed on mobile half. The structure of the giant screen is equipped with hydraulic lift, the screen can be raised from the ground up to 3.00 meters. E 'included cabin also directed that allows you to manage multiple video and data signals, a generator power for 18 kVA super silent and a sound system from 800 watts. The screen is visible in full sunlight and it becomes operational in 15 minutes, the pictures are reproduced with great fidelity and definition.

The mobile giant screen is ideal for concerts, sporting events and rallies election, thanks to about half mobile, you can reach the place of in a short time. In addition, the New Vision Star provides ad hoc structures for the installation of the screen on moving vehicles.

Main features:


OPERATION IN FEW MINUTES
Thanks to a completely automated system, the mobile giant screen can be operational within minutes of arrival. The maxi screen mobile was designed to meet the needs of a professional market as competitive as that of the service and rental.



INSTALL THE LED GIANT SCREEN AND BROADCAST LIVE
Our giant screen is not only mobile but a giant screen at the request may become a study audio / video itinerant, with a production capacity identical to that of a television studio. You can also equip a professional sound system, and with lights, lasers and smoke machines, to turn it into a backdrop for concerts.



MUSIC FOR THE EARS
The giant screen is equipped with loudspeakers and a professional mixer, in this way, you are free to link amplifiers of all sizes and power.



RENTAL LED GIANT SCREEN
New Star Vision rents led display furniture, you can realized in previous chapters, providing all the necessary equipment and ensuring the highest professional standards.
TECHNOLOGY PRODUCTS WITH A LED